Cusco Hotel / Cusco Tours / Cusco City Tours and 4 Ruins
CUSCO CITY TOUR AND 4 RUINS
(pol service)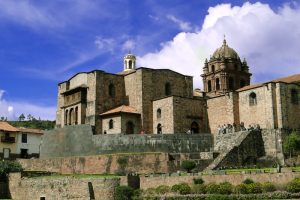 On the afternoon at 12:50 pm your driver will pick you up from your hotel. First we will visit the Cathedral of Cusco, recognized as a World Heritage Site by UNESCO. Here you will see many artifacts and works of art from the 'Cusqueña School' and its fine architecture.
Next we will visit the Qoricancha, known as "temple of the sun", the most important religious site of the Inca period on which the convent of Santo Domingo is built.
Then you will go out of the city of Cusco where you will visit Sacsayhuaman, majestic place, You will be surprised with this impressive work with large stones being the heaviest of 70 tons, so perfectly together and moved from remote places.
Then visit Qenqo, place with caves that possibly was used to perform rituals to the mother earth called Pachamama.
Then visit Puca Pucara (red fortress) that had an administrative and social function in the time of the Incas.
Finally he will visit Tambomachay, an archaeological site that was destined to the worship of water and also served for the Inca ruler to rest.
This tour lasts approximately 4 to 5 hours after this time we will be returning to the city of Cusco where we will leave it near the place where we finish our services.
Accommodation in Cusco Polo Cusco Suites (Altitude: 3.350 m)
INCLUDES
A professional guide
Tourist transport
NOT INCLUDED